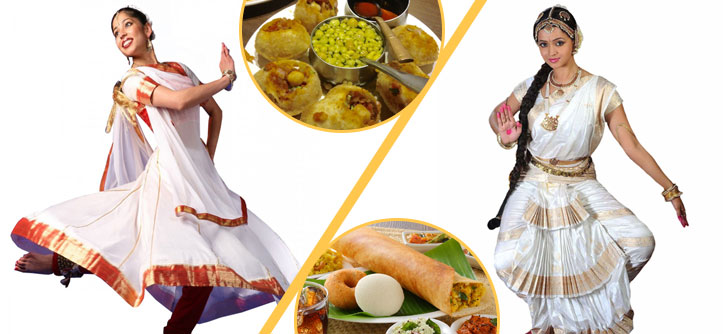 The culture differences between south and north India has been widely seen in all aspects. They actually show a peculiar uniqueness in their way of food, dressing, cultural activities, music etc. As the south India hold all three type of seas around them that will also make a change in their characteristic compared to north India. Narrow or widely it specifies the classification around them. The cultural difference between South and North India is so obvious, that you feel they belong to two different continents.
Language:
Dravidian language, which evolved nearly 5000 years ago, and spoken by more than 200 million people today; is unrelated to languages of other known families like Indo-European. The languages spoken by North Indian people belong to the Indo-Aryan family which is closely related to modern European languages. Another division seen is that the North Indian languages are inflectional in nature whereas the South Indian languages are agglutinative.
Food:
South Indian food is much spicier and hot than the food served in North India. South Indians consume more rice, while north Indians have wheat as their staple diet. North Indians prepare parathas, chapatti, puri, and rotis from wheat flour. Rice is combined with different lentils to prepare dishes like Rice dosas, idlis, vadas and uttapams in south India. Fish and coconut are consumed more by south Indians in comparison to their northern counterparts. We cannot deny the fact that though different, the delicacies of both North and South India are delicious and famous worldwide.
Racial Origins:
North Indians are descendants of the Aryan race; whereas the South Indians are descendants of Dravidian race. It was estimated that 72% of Indians are descendants of Aryans whereas 28% are of Dravidians race. The racial difference is visible in their general appearance. The north Indians are taller, stronger, fairer and heavily built when compared to the South Indians, though this may not hold true for all individuals. Recent research is showing an indication that the Aryan and Dravidian divide might be just a myth. The slight difference in physical appearance is attributed to adjustment mechanism the Southerners had to make against hotter climates and greater sunshine.
Dressing Styles:
There is the huge difference in dressing styles of North and South Indians. Whereas the women in north prefer salwar kameez or chudidaar, in south Sari is the preferred attire, especially after marriage. The half- sari which is popular in rural south India is seldom seen in the north. The sparkling white dhoti or colorful lungis, the desired attire of men in the south is not popular in northern parts. You have to keep in mind that this dress code is not strictly followed. Every region has a different style in which women wear their saris.
Music:
The classical music of India can be widely divided into Hindustani and Carnatic music which originates from north and south respectively. The Hindustani music is highly influenced by foreign invasion whereas the Carnatic Sangeet exhibits regional influences. Carnatic music is not divided into different styles, whereas Hindustani music is divided into different styles of schools known as Gharana. The musical instruments used by musicians also vary. While sitar, sarangi, santoor, and table are very popular in north, mridangam, gottuvadyam, violin, veena and jalatarangam are favored in the south.
Dance:
It is said that dance of north like Kathak, has been highly influenced by the invasion Muslim rulers, while on the other hand, the dances of the south like have maintained their originality. Dance is a form of expression of society, the societal differences are bound to influence them. Though the costumes worn by artists of north and south are different, they are all gorgeously colorful and bright. Some popular dance forms of the north are – Kathak, Chhau, Gaudiya Nritya, Odissi, and Manipuri. Dances that are popular in the south are – Bharatanatyam, Kuchipudi, Kathakali, and Mohiniyattam.
Though, there is a wide difference to talk about but should enjoy the enchanted beauty of diversity. The mixed relational celebrations will make India to standout on few things.