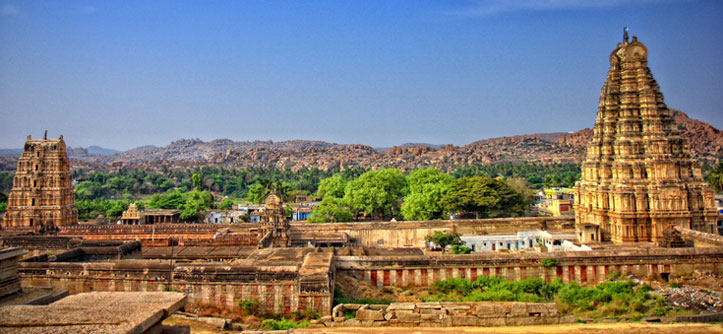 You might be looking up to pick some historical information about India. It can be a plan to visit India or planning to roam to the places around the country.
Let me tell you this, the country has wide days of yore. You will love being in every part these places.
Firstly, I like to give some introductions about India!
India is a diverse country with scattered religions, cultures, and languages. Our country is extended to the abandoned historical stories.
Gladly, many of the historical places have been listed under the unanimous UNESCO world heritage. It's actually a land of history attracted with authentic culture, art, tradition, philosophy, architecture, etc. It is sculpted with a structured beauty in the landscapes, heritage sites, temple, beaches, hills, forest and so much more.
This is a country with the tales of romance, bravery, strength, Culture, and battle. If you are a history buff, try looking out the study about these historical monuments. This will divert you to the know more about the antiquity of India.
Get a charge out of the history of India!!!
TAJMAHAL
Undoubtedly, India's famous monument is Tajmahal, which is resting near the bay of river Yamuna. The enhanced beauty reveals the value of the monument. The Mughal emperor Shah Jahan has built a mausoleum for his third wife, Mumtaz Mahal, who died in 1631. Construction took place over 16 years, from 1632 to 1648.
AJANTA AND ELLORA
Ajanta and Ellora are known for its making. Yes, it's totally engraved in a rock with hammers and chisel by hands. In today's world, it's still a wow factor. Do you know that it's a blend of Buddhism, Jainism, and Brahmanism? And it is sculpted with Basaltic hill with 34 caves. Specifically, there are 12- Buddhism, 17-Hindu, 5-Jain caves. Ajanta is known for its painting and sculpture and Ellora is known for its ex-ordinary architecture.
HUMAYUN'S TOMB
The Humayun's tomb in Delhi is managed by the archaeological department of India. It's known to an excellent example of a Persian and Indian architecture. And to add more value to the tomb, it's the first garden-tomb on the Indian subcontinent. Humayun's wife Hamida Banu Begum commissioned the building of this tomb for her husband in the 15th century
NALANDA UNIVERSITY
Nalanda University is located in Bihar. It was built as Mahavihara means a large Buddhist monastery. It was a learning place for ancient people of the 7th century. Students and scholars from places like China, Central Asia, Korea and Tibet studied in this great vihara that taught Mahayana, Hinayana, Sanskrit grammar, Vedas, and Samkhya among others.
It was called as Dharma Gunj (Mountain of Truth) or Dharma ganja (Treasury of Truth)
KHAJURAHO SCULPTURE
The place is known for its sensuality and eroticism at its best. It replicated a perfect amalgamation of Hinduism and Jainism. The sound and light show that portrays the tale of the Chandela dynasty. It is filled with cult icons, demigods, and apsaras. The sculptures expound much about love, eternal beauty, delicacy and the creative arts. It is the most important historical place in India.
HAMPI
Hampi's rocky outcrops, chariot structures, Gopurams, elephant stables, ornate halls and it's a tale of one of the greatest Hindu kingdoms in India. There is an old story followed that Lord Rama and Lakshman visited this place in search of Sita. Then they took help from two brothers, who was ruling this dynasty called Bali and Sugriv. Hampi on the banks of the river Tungabhadra is situated in the central core of the Karnataka state
RED FORT
Red Fort is constructed around 1638- 1648 by 5th Mughal emperor. It's a typical octagonal fort well planned and structured. On August 15, 1947, the first prime minister of India Jawaharlal Nehru unfurled the Indian flag from the red fort. Still, now the practice continues.
QUTUB MINAR
Qutub Minar was built in 1193 by Qutub-ud-din-back. Its Stands tall with a five-story tower elevated with balconies. The history says that this is the first mosque built in India. This is a reflection of the victory of the beginning of Muslim rule in India. The 238 feet Qutab Minar is 47 feet at the base and tapers to nine feet at the apex. Qutub means pole of justices and because of this, it is known as the symbol of Islamic justice. It is the finest monument in the World.
KONARK TEMPLE
Konark sun temple is located in a small town Puri, Odisha. It explains the antique beliefs of Brahmanism. This was constructed around the 13th century by Narasimdeva, the ruler of Ganga dynasty. It's purely a dedication to the sun god sooriya. Significantly it is Oriya architecture.
MAHABALIPURAM
Mahabalipuram is a place resembles the classic style of Dravidians. It's an exemplary place for innumerable sculptures. It was built by the three generations of Pallavas. It took over 200 years, from 7th to 9th century. It consists of five chariots dedicated to Pandavas. Only single rock is used to engrave this beauty. Every year Mamallapuram dance festival is been conducted. The "Descent of the Ganges" that has been carved from pink granite and displays how Lord Shiva made the water of the Ganges descends from the heavens onto the earth.
The wonders are around each sketch of India's map. The tradition and antique bliss of the culture carries a special respect. Have a happy vintage dream.